Introduction
I had an interesting observation before a recent business trip. It struck me that when I step into a hotel room, every facet of hospitality surpasses the comforts of my own home. There's 24-hour room service, daily housekeeping, and even the swift arrival of an aircon technician if needed. It's a haven of comfort, luxury, and convenience.
On the other hand, every aspect of the hotel network will pale in comparison to what I enjoy at home without fail, even in the most luxurious suites. In my humble abode, I revel in a dedicated broadband connection or Fiber to the Home (FTTH) link that boasts speeds of 1 or even 2 Gbps. My home Wi-Fi connection is secure, and I can upgrade the router every 2 to 3 years. I have a second large LED monitor for my laptop to work on. Streaming services like Netflix, Disney+, and YouTube keep me entertained and snacking late at night. A Covid-era colour inkjet printer is on standby.
So, why can't we have the best of both worlds in a hotel room? With Digital Onboarding and a secure Wi-Fi profile, we could seamlessly connect to the hotel network. Likewise, having the capability to cast my content to the room TV securely would enable me to utilize my personal subscriptions for the latest episodes or stream my favourite Spotify and YouTube tunes. I can even request for housekeeping and room service online. Picture it: ordering room service, sipping on drinks, and indulging in the latest episodes in the lap of luxury.
The bar for hospitality is set so high in a luxury hotel that as an everyday consumer I cannot surpass it, and yet I easily outspend the hotel on consumer tech which surely is a minimal percentage a large hotel spends on coffee beans a month. From such a low base, the returns from an incremental investment in digital services far outstrip the increment returns to upgrade the already high hospitality aspect.
If we could indeed merge exceptional hospitality with efficient technology, wouldn't that be a game-changer for the post-COVID era and the tech-savvy TikTok generation?
ANTlabs and Our Journey
Welcome to the future of hospitality, where technology meets exceptional guest experiences. At ANTlabs, we envision a transformative path that leverages Digital Onboarding to redefine how hotels engage with their guests and deliver digital services to deepen guest engagement and customer loyalty. In this blog, we embark on our journey through the Hospitality 2.0 Pyramid. This is a strategic framework, where the key to success lies in seamlessly integrating technology and hospitality, unlocking competitive advantage.
ANTlabs Hospitality 2.0 Pyramid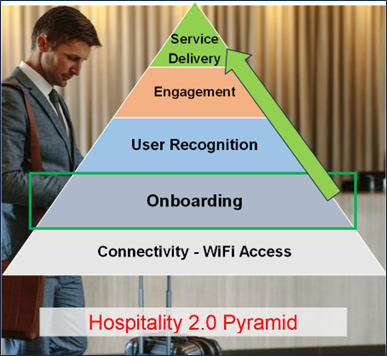 ANTlabs has over two decades of expertise in hospitality, collaborating with Telcos and service providers. Our technology, including internet gateways and Cloud Wi-Fi management platforms, has powered guest Wi-Fi solutions worldwide. Notably, our networking solutions played a vital role in facilitating connectivity during the 2022 World Cup in Qatar, arguably the world's largest hospitality event in recent history.
We use the Hospitality 2.0 Pyramid to systematically deconstruct the guest's digital journey across diverse sectors, encompassing hotels, airports, stadiums, and F&B retail. At its core lies Digital Onboarding, the cornerstone upon which exceptional guest experiences are constructed.
Digital Onboarding: The Foundation for Excellence
Digital Onboarding, a seamless guest registration process, extends beyond mere Wi-Fi connectivity. It encompasses an array of user-friendly steps, including app downloads and enticing incentives for loyalty program enrollment, setting the stage for an unforgettable stay.
User Identification: A Crucial Step
Moving up the pyramid, User Identification is a pivotal phase where the recognition of users on the network takes center stage. The absence of authenticated user devices destroys the capacity to provide personalized and distinctive services.
User Recognition allows the network to associate a guest's identity and elite member status, allowing for personalization while ensuring privacy. This is achieved via integration through the PMS interface, loyalty program databases, identity management solutions, or a combination of the above.
User Engagement: Elevating the Experience
In the middle of the pyramid, User Engagement comes into play where personalized interactions through digital services and apps enhance guest convenience and overall satisfaction.  For example, the use of AI Chatbots or just simple messaging maintains a high-tech, high-touch hospitality experience, in the absence of a trained and experienced guest relations officer.  As a returning customer, I am always vexed by talking with interns or inexperienced operators who don't understand what I want.  In a previous stay, I didn't have the same issue.  The use of technology can mitigate the global hospitality staff shortage and maintain a high level of guest relations.
Provision of Digital Services: Enriching the Journey with Digital Onboarding
At the pyramid's peak lies the Provision of Digital Services. Here, the focus shifts to crafting tailored offerings and streamlining service requests and delivery, resulting in a memorable guest experience.   For example, elite status members may be entitled to premium Wi-Fi speeds, allocated public IP addresses, enjoy secured Wi-Fi connectivity, and even web filtering services on the hotel Wi-Fi network for better security.  Other services can include casting user content like NetFlix to the in-room large-screen TV, seamless access to chatbots for service requests, and many more.
The Power of Seamless Onboarding: Increasing Loyalty Program and App Adoption
This logical diagram visually illustrates how the onboarding process can increase loyalty program sign-ups and app downloads. Through Digital Onboarding, a Passpoint or Hotspot 2.0 compatible Wi-Fi profile can be effortlessly stored on the guest's device, guaranteeing seamless login and roaming privileges within the hotel group.

Guests should be incentivized to download and install the hotel app, accept the Wi-Fi profile, and participate in the loyalty program. This strategic approach maximizes guest engagement and lays the foundation for comprehensive digital service delivery.
Merging Hospitality with Technology
The anecdote that started our journey highlights a crucial point: we deserve the best of both worlds, especially in a mid-scale to luxury hotel room. By harmonizing exceptional hospitality with efficient technology, hotels can gain a competitive edge in the post-COVID era and appeal to the tech-savvy TikTok generation.
Conclusion: Aligning Hospitality with Technology
In conclusion, the guest's journey through the Hospitality 2.0 Pyramid encompasses onboarding, user identification, engagement, and personalized digital services. This alignment of exceptional hospitality with technology will help discerning hotels differentiate themselves in a highly competitive market.
Without Digital Onboarding and User Recognition, meaningful guest engagement is not possible. It's akin to losing the front desk manager who recognizes your most loyal guests.  A new desk staff will greet and treat every customer the same, and guess what? Over time, your guests will also treat you just like any other hotel – without loyalty!
With Digital Onboarding, connectivity becomes seamless, and recognition instantaneous, ensuring that guests receive the elevated service they deserve.  Seamless connectivity and instant recognition can also be extended across all properties within the same hotel group or loyalty program.
And with that, we conclude our exploration of the future of hospitality technology. We trust that you've found these insights valuable as we navigate the dynamic intersection of hospitality and technology.